Recently my wife and I spent 3 days in Woodinville, WA. We're trying to make our way to all the appellations and wine meccas of WA and were excited to visit the area.
Woodinville is home to two of Washington's largest (Chateau St. Michelle and Columbia Winery) These two building dominate the landscape, however, the shining stars can be found in the small strip malls and the industrial warehouse district. We purchased more wine on this trip than on our previous 4 trips and the winery that captured our imagination and taste was Alexandria Nicole.
I love the business of wine and pairing the experience with the flavor. When I say that ANC (@ancwine - twitter) was our favorite, it's because the combination of the wine flavor, the employee's personality, the building decor and the obvious passion that came across from everyone we met.
Hidden within the maze of white industrial space is the gem of Woodinville! When entering the tasting room you are greeted with simple, warm decor, and a beautiful slab granite tasting area. Beyond the main area is a fantastically decorated meeting space, wine club member area for tasting and events. The hosts were extremely informative and the love of their work came through. We tasted all they had to offer and purchased a little of each.
The other evening we were asked to bring a good wine to dinner. I really wanted to drink the Crawford Viognier and even though the pairing with Jambalaya didn't seem quite right, I thought the Viognier would hold up well to the spice in the dish. Although I was slightly off with my pairing, I thoroughly enjoyed the wine (the dish was much more tomato based and not nearly as spicy – a Cabernet Sauvignon or even a Pinot Noir would have stood up better).
The NectarView
2008 Crawford Estate Alexandria Nicole Viognier - Columbia Valley $20
Swirl: Very light in color, pale and clear – can tell just from the swirl that this is going to be crisp and refreshing
Sniff: Wow, extremely potent with citrus, peach and melon, minimal floral scent (reminiscent of Hawaii)
Sip: Tasted more of an apple crisp, like having an apple cobbler of some sort including the vanilla ice cream, extremely crisp. could drink the whole bottle by the fire on a cool September evening. Mild alcohol aftertaste but not enough to deter from the flavor. Only flaw is the flavor trails off quickly.
The Score: At $20 I can easily score this a 4 (at the $15 range would make this easily a 5)
This wine scored 91 from Wine Spectator and definitely deserves that rating. I'm looking forward to our next trip and the next bottle in the rack.
2007 Alexandria Nicole Gravity Merlot
The Swirl: Dark plum in the center with a light ruby at glass edge. No visible sign of legs
The Sniff: Spicy leather and cherries jubilee with some chocolate shavings on top.
The Sip: Good tannins but presented a mild hot alcohol on the back end. Not a typical smooth Merlot, had a big bold taste.
The Score: At $24, I score this a 3+. It's a well made wine but seemed a little off balance to score as a 4 or higher.
Other scores were found on Cork'd as a 91 and on Cellar Tracker as a 86.
Enjoy life with friends and DRINK.HAPPY!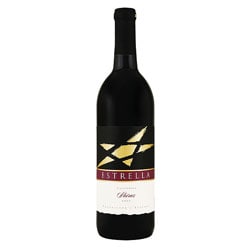 Now, I'm on a quest; the quest to find three good wines under $10 (maybe even under $7). Tonight, I must say, I took one for the team. It's no secret that we drink wine. admittedly we probably drink over 200 bottles a year. My budget says, I can't be drinking $20+ bottles every night (somewhere north of $4,000). If you're like me, we need a few great selections we can trust. Good staples are a smooth, sweeter red, a spicy meaty red, a crisp full white, and a sweet summer white. We need that $7 trustworthy wine for daily use.
The Rocket Market (726 E 43rd Ave) is a great place to try new wines. You can count on them to have hundreds of bottles to choose from ranging from $5 – $105.
Tonight I reviewed three wines available for under $7 with hopes that one could be added to the "trusted" list.
2008 Estrella White Blend; California $5
With no pronounced varietals, I didn't expect much, other than a white grape bland wine. I was pleasantly surprised.
Swirl: Good crisp color darker than a Sauvignon Blanc, but lighter than a Chardonnay
Sniff: Crisp nose with strong butter reminiscent of a Chardonnay. In the video I mentioned a peach smell, but after a few more sips, the strong flavor is apple, and a mild citric.
Sip: Butter smell carried over to the flavor. Really noticed the citric flavor here too with mild vanilla on the back end. The finish was mild without overbearing alcohol.
Price to Value Rating: $$$$ – this is a pretty darn good value. Not a ton of structure or distinguishing flavor, but nothing offensive either.
2008 Estrella Red Table Wine; California $5
Swirl: Cloudy purple color, weak legs
Sniff: Fruit forward, jammy smell, a little spice on the back end. Reminiscent of a Australian Syrah
Sip: Ick, Sugar water, weak grape juice on the front end, more structure as it sits but the best it could do is dark blackberry, strong alcohol leaving me with a chewy tongue
Price to Value Rating: $+, skip this one and keep searching
2008 Hacienda Cabernet Sauvignon
Swirl: More structure to the color, nearly see to bottom of glass, no legs
Sniff: Not very strong with moderate spice and pepper
Sip: A decent structure, not overpowering or overly-meaty like some Cabs. A mild alcohol finish. Should be consumed with food but not too over powering to be drank alone
Price to Value Rating: $$$ – This wine is almost there but not quite the one to add to the trusted list. If you're in need of a decent burger wine, this could work.
After tonight's adventure, the journey continues. I would safely add the Estrella White table wine to my list of trusted under $10, but there are already a few there. The quest continues.
Enjoy life with friends and <drink.happy>