Simply the most beautiful place that I've ever tasted wine!
I'm not a world traveler. I've never been outside the US, unless you count downtown San Francisco – okay, I've been to Canada but not the cool parts. I hear great things about wine tasting in Napa. I'm sure tasting rooms in Northern Nevada and the East Coast are tops too. From my limited experience (5 regions in WA), Lake Chelan AVA is tops! The majority of the wineries are small lot makers of 5000 cases or less that either grow their own grapes or source from local Columbia Valley or Walla Walla. These are passionate people who have yet to be consumed by the lust of big money and big business!
Kimberly and I enjoyed this trip so much that we have already planned a return trip in May, 2010.
Washington's youngest AVA (American Viticulture Association), born in May, 2009 boasts 14 wineries. If I were a betting man and had any money to bet, I would put a C-Note down that in 3 years or less you'll see no less than 30 wineries and tasting rooms in the area.
Of the 12 wineries we visited (sorry to say we missed 2), it was truly difficult to pick our favorites. We loved the personality of Nefarious, the grand tasting room of Benson, the grounds and atmosphere of Vin du Lac, the sexy story behind Hard Row to Hoe, and the impressive underground cave of Karma! However the WINE is the most important part. While we purchase wine at EVERY place we visit, there are a few that lose their appeal when leaving the sunny slopes of the mountain lake.
The Nefarious Cellars wines were amazing. We only purchased the whites (there must've been a reason for that – either we didn't like the reds or they were already sold out). Heather and Dean Neff (owners and wine makers) create a personal wine that reflects their own individual passions using grapes grown on their plots of land or from respected vineyards in WA. The video review shares more of their information and the review of their white blend, 2008 Consequence.  The wine, nearly a 50/50 blend of Sauvignon Blanc and Aligote (some Viognier thrown in), gave me an opportunity to try a varietal that I've never experienced in the Aligote. My research found that this grape, mostly grown in France as a blending grape has a good sparkling quality to it.  This wine is definitely crisp and refreshing. Makes me wish I would've opened it in the summer. The 350 cases of Consequence are now sold out.
I typically do my reviews first and then double-check my work with other tasting notes and reviewers to see if I'm full of it. We enjoyed a glass with a Roasted Chicken, Scalloped Potatoes on a bed of veggies. The wine paired well with the dish and didn't shrink away.
The NectarView
The Swirl: Lighter than a Chardonnay but not as light as a Sauvignon Blanc
The Sniff: At first I smelled pears, citrus fruits and rockyness. My wife said she got the smell of butter, like movie theater butter (not the popcorn, just the butter)
The Sip: Crisp, like biting into a crunchy pear or apple. It felt like a non-oaked Chardonnay with more citrus to it. During my video tasting I mentioned the lack of acidity or finish, but after taking the final glass to the hot tub, I must contradict myself. The structure began to come through after sitting out and being just below room temp (maybe 60 degrees)
Price to Value Ratio: ($17) $$$$+ If this wine were over $20, I would not score so high. Great value only if you like the style I've described.
For me, if you love crisp wines that are not too dry and not too sweet, this is a great buy (if you can find any). If you're in the mood for something with strong passionate flavor and acidity, then skip it.
DOTD? Currently, while I write, I'm having a Widmer Brothers Drop Top Amber Ale. Soon, I'll be examining our wine selection to see what wine to take on our Thanksgiving trip with family. You?
While away for Thanksgiving, I'll try to put together an on the spot Thanksgiving review of the wines other people brought and get candid response from some family members.
Enjoy life with friends and DRINK.HAPPY!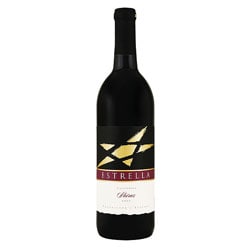 Now, I'm on a quest; the quest to find three good wines under $10 (maybe even under $7). Tonight, I must say, I took one for the team. It's no secret that we drink wine. admittedly we probably drink over 200 bottles a year. My budget says, I can't be drinking $20+ bottles every night (somewhere north of $4,000). If you're like me, we need a few great selections we can trust. Good staples are a smooth, sweeter red, a spicy meaty red, a crisp full white, and a sweet summer white. We need that $7 trustworthy wine for daily use.
The Rocket Market (726 E 43rd Ave) is a great place to try new wines. You can count on them to have hundreds of bottles to choose from ranging from $5 – $105.
Tonight I reviewed three wines available for under $7 with hopes that one could be added to the "trusted" list.
2008 Estrella White Blend; California $5
With no pronounced varietals, I didn't expect much, other than a white grape bland wine. I was pleasantly surprised.
Swirl: Good crisp color darker than a Sauvignon Blanc, but lighter than a Chardonnay
Sniff: Crisp nose with strong butter reminiscent of a Chardonnay. In the video I mentioned a peach smell, but after a few more sips, the strong flavor is apple, and a mild citric.
Sip: Butter smell carried over to the flavor. Really noticed the citric flavor here too with mild vanilla on the back end. The finish was mild without overbearing alcohol.
Price to Value Rating: $$$$ – this is a pretty darn good value. Not a ton of structure or distinguishing flavor, but nothing offensive either.
2008 Estrella Red Table Wine; California $5
Swirl: Cloudy purple color, weak legs
Sniff: Fruit forward, jammy smell, a little spice on the back end. Reminiscent of a Australian Syrah
Sip: Ick, Sugar water, weak grape juice on the front end, more structure as it sits but the best it could do is dark blackberry, strong alcohol leaving me with a chewy tongue
Price to Value Rating: $+, skip this one and keep searching
2008 Hacienda Cabernet Sauvignon
Swirl: More structure to the color, nearly see to bottom of glass, no legs
Sniff: Not very strong with moderate spice and pepper
Sip: A decent structure, not overpowering or overly-meaty like some Cabs. A mild alcohol finish. Should be consumed with food but not too over powering to be drank alone
Price to Value Rating: $$$ – This wine is almost there but not quite the one to add to the trusted list. If you're in need of a decent burger wine, this could work.
After tonight's adventure, the journey continues. I would safely add the Estrella White table wine to my list of trusted under $10, but there are already a few there. The quest continues.
Enjoy life with friends and <drink.happy>