What do you get when you combine high fruit, high sugar, high alcohol, high flavor, and traditionally smooth flavor?
My favorite wine varietal.
Some oenophile's think Zinfandels are too sweet to be considered among the elite, but the grape that makes up 10% of the California production is a complex, challenging grape to coax consistent flavor out of.
Tonight the everyday man Zinfandel gauntlet is thrown down. Hulk Hogan, Rowdy Roddy Piper and Brett Hart in a cage match to the death. Okay, so no death was involved, but this taste test certainly exposes three under $20 Zinfandel wines! Check out the NectarView and tasting notes!
2007  RedTree Zinfandel - Cechetti Wine Company; CA $8
Swirl – Light in color, could see all the way to the bottom of the glass.
Sniff - Aromatically challenged with hints of pepper and red fruit, cherry and strawberry.
Swirl – More pepper than fruit on the front; fruit comes through on the back. Like biting into a sweeter green pepper with a mild cherry finish. Not enough acidity to compete with the big boys.
Price to Value Ratio: $$$+
For $8, the wine wasn't offensive or negative in taste. Overall there wasn't anything exciting to write home about. Your everyday Hulk Hogan wine that has a lot of talk but not much substance.
2006 Roseblum Cellars Zinfandel; CA $12
 Swirl: Darker plum in color with slight cloudiness, mild legs representing mild acidity
Sniff: Musty wet basement smell was overwhelming. With effort a little bit of spice comes through. Pretty offensive to the nose
Sip: Now the fruit, strawberry and cherry, comes through. More acidity and tannin on the finish
Price to Value Ratio: $ – Not recommended. Could be an issue of poor storage or a bad bottle, but the musty smell was difficult to overcome.
Like Rowdy Roddy Piper very offensive, but tries to compete with the big boys.
2004 Brassfield Estate High Valley Zinfandel; $22
Swirl: Dark pearlescent plum color with good color. Good strong legs representing good acidity
Sniff: Wow, before I even put my nose in the glass I could smell the amazing berry fruits – especially strawberry. More investigation revealed more mild pepper, rhubarb cinnamon and vanilla – it smelled like I was going to bite into a freshly made strawberry rhubarb pie.
Sip: The flavor did not disappoint. Just beyond the berry was a great cinnamon flavor paired with just enough spice and acidity to cut through a roast, pizza, or turkey dinner. Would even be a great dessert wine!
Price to Value Ratio: $$$$ – Maybe not an everyday value for those on a budget, but definitely a crowd pleaser for the holidays or to show your wine sophistication.
One again Brett Hart shows everyone up as the best and most entertaining of the bunch.
Overall, this was the most interesting taste review. It was super cool to have three different price points side by side to explore the grape quality and wine making quality differences.
Enjoy life with friends and DRINK.HAPPY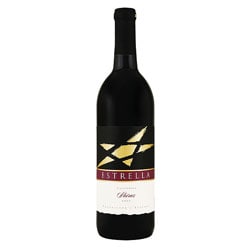 Now, I'm on a quest; the quest to find three good wines under $10 (maybe even under $7). Tonight, I must say, I took one for the team. It's no secret that we drink wine. admittedly we probably drink over 200 bottles a year. My budget says, I can't be drinking $20+ bottles every night (somewhere north of $4,000). If you're like me, we need a few great selections we can trust. Good staples are a smooth, sweeter red, a spicy meaty red, a crisp full white, and a sweet summer white. We need that $7 trustworthy wine for daily use.
The Rocket Market (726 E 43rd Ave) is a great place to try new wines. You can count on them to have hundreds of bottles to choose from ranging from $5 – $105.
Tonight I reviewed three wines available for under $7 with hopes that one could be added to the "trusted" list.
2008 Estrella White Blend; California $5
With no pronounced varietals, I didn't expect much, other than a white grape bland wine. I was pleasantly surprised.
Swirl: Good crisp color darker than a Sauvignon Blanc, but lighter than a Chardonnay
Sniff: Crisp nose with strong butter reminiscent of a Chardonnay. In the video I mentioned a peach smell, but after a few more sips, the strong flavor is apple, and a mild citric.
Sip: Butter smell carried over to the flavor. Really noticed the citric flavor here too with mild vanilla on the back end. The finish was mild without overbearing alcohol.
Price to Value Rating: $$$$ – this is a pretty darn good value. Not a ton of structure or distinguishing flavor, but nothing offensive either.
2008 Estrella Red Table Wine; California $5
Swirl: Cloudy purple color, weak legs
Sniff: Fruit forward, jammy smell, a little spice on the back end. Reminiscent of a Australian Syrah
Sip: Ick, Sugar water, weak grape juice on the front end, more structure as it sits but the best it could do is dark blackberry, strong alcohol leaving me with a chewy tongue
Price to Value Rating: $+, skip this one and keep searching
2008 Hacienda Cabernet Sauvignon
Swirl: More structure to the color, nearly see to bottom of glass, no legs
Sniff: Not very strong with moderate spice and pepper
Sip: A decent structure, not overpowering or overly-meaty like some Cabs. A mild alcohol finish. Should be consumed with food but not too over powering to be drank alone
Price to Value Rating: $$$ – This wine is almost there but not quite the one to add to the trusted list. If you're in need of a decent burger wine, this could work.
After tonight's adventure, the journey continues. I would safely add the Estrella White table wine to my list of trusted under $10, but there are already a few there. The quest continues.
Enjoy life with friends and <drink.happy>