"Bring in more customers by December," the winemaker said. 'We created a Facebook page, Twitter account and started profiles on wine information Web sites, but we're not sure where to go from here.' ~Tasting Room Manager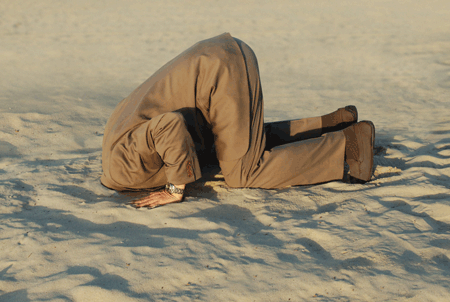 This is one of the many responses I received from my first Social Media post "Wineries- Missing the Social Media Money." In the first post I offer 5 basic principles when using Social Media. If you missed it, check them out, it's a good place to start. If you're reading this and you are already swimming in the deep end of the social medial pool, please pass this along. If you're thinking of dipping your toes in – here is your life vest, let's dive in! The New Year is a great time to make commitments. By now you've hopefully realized that Social Media is not a fad. It's also something you don't just jump into without a plan. It's time pull your head out of your ass…I mean the sand and face the social world.
Jumping on the social media band wagon because "everyone is doing it and if you don't you will be left behind" is not a good way to conduct business, and can ultimately lead to failure – Dave McCauley
My good friend, @SeattleWineGal, has several good posts about the benefits of developing a social media strategy. A strategy is important to achieving success. With any strategy you need discipline to see it through. Discipline is the unsung hero of success. If you are still developing your strategy or can't quite commit to see it through I offer three suggestions:
Secure your vanity screen names on Facebook and Twitter now. With six billion people in the world the good ones get gone quick
Look through your current marketing plan to determine the best return on investment – eliminate the waste
Hire a consultant or coach to help get you started and establish a strategy. Contact @nectarwine or @seattlewinegal and we can offer help or point you to the right people – we work for wine!
You have a twitter account, you've set up a Facebook business page / fan page, you've set up profiles on the endless number of business networks - now you're ready to make a resolution to the Social Media revolution.
Connect with the Connectors and Interact with the Influencers
There are several people who have gone before you and are clearing the weeds in the social media jungle. Connect with them.  After a few weeks on Twitter, you'll soon find who the social people are. Engage them in twittersations. Comment on their tweets and re-tweet. You'll soon learn some of the tricks of the trade by observing them.
Search for people with similar interests by using Twitter and Facebook search. Follow those people (in small chunks of 30-50). Twitter search can also be a powerful tool to see what people are saying about you, your service or your product.
Find blogs that focus on your business by using Google blog search. Comment on these blogs and leave your twitter name as reference (Josh @nectarwine - Twitter) – This may seem a little self-serving, but trust me, you'll learn a ton from the talented writers as you get your name out there.
Several of these influencers are happy to write about your service or product. If they are product reviewers, check out their strategy and send them a sample. Include a personal touch and product back story.
Start Local in the Global World
In my corporate project management we continually manage scope creep. The project starts out to solve problem X but after a while we throw issues A-Z in there too. We can't solve world hunger without starting with our hungry neighbor first. The same is true in the global Social Media world. Chances are your product is not available globally. Having 300 local followers will probably generate more activity than having 3000 followers scattered across the globe. Increase your local results by employing the following tactics:
Find and join local networks. In Spokane, we have www.launchpadINW.com. This .ning network focuses on connecting local businesses and hosts 'in person' networking opportunities.
Similar to one already mentioned above, connect with LOCAL bloggers (hint hint – to those in the NW)
Create and enhance local profiles on Google Maps, Yahoo and Bing Local. This will help you show up higher in the local results.
Create a localized Facebook ad. These ads can be very affordable and targeted to specific cities, interests, etc.
Don't be Shy in Social Situations
Don and Judy Phelps, owners of Hard Row to Hoe vineyards in Lake Chelan, WA (www.twitter.com/hardrow) – about Social Media, "Twitter provides general exposure. We find it hard to hold discussions so we do Facebook too. It is easier to get to know someone and build relationships there."
Facebook and Twitter provide great customer interaction and brand loyalty building. What other medium provides you a real-time insight into what your customers are thinking and feeling about you and you product? In my previous post, one local business owner asked, "do you have any tips for boosting fan conversations and interaction?"
BEING SOCIAL ON FACEBOOK: Writing on someones wall in Facebook is more personal than writing about them on your own wall (remember everyone else can see it). "Like" their comments, and ALWAYS reply to people who message you, write on your wall or respond to your posts. Create interaction by responding to their comments with a question – "Hey glad to see you at the tasting room, do you remember which wine was your favorite?"
BEING SOCIAL ON TWITTER: Managing the volume of tweets can often be daunting. Be unique in your tweets. Tweet several times about an upcoming event or special. You can only direct message (DM @nectarwine) people who follow you back – so occassionaly reach out to your followers with a special message or thank them with a DM coupon / discount. Talk to people by replying to them (@nectarwine glad to hear you enjoying the wine you purchased. What r u serving for Christmas). Re-tweet (RT @nectarwine) things you like that others are saying. Similar to Facebook, ALWAYS respond to people who DM, Reply or RT you. Twitter lets you see who mentioned you by selecting your @name on the right side of the page. I encourage the use of TweetDeck or HootSuite (free services) to more easily manage the comments and tweets in one multi-panel screen.
You've got a strategy! You're ready to go! I hope you use these basic Social Media tips to explore the new world. Connect with Connectors, think local before you go global, and don't be shy. The social media waters can seem deep – think of these tips as your floaties to help get you started. Pretty soon, you'll be swimming with the big boys.
P.S. Life is meant to be enjoyed with friends and family, so open a bottle of wine or brew some coffee and DRINK.HAPPY!
"Having a Twitter account and not using it is like opening your business without any inventory. People may stop by, but they'll never be back." – J. Wade
Are wineries leaving money on the table? Social Media / Social Networking (whatever you choose to call it) is not going away. 2009 may be thought of as the year that Twitter hit the mainstream, but 2010-2012 will prove to be the years where money is made (and lost) through social mediums. We are finally living in a time where businesses can have real time conversations with their consumers; real time feedback, real time promotions, real time complaint resolution, and real time viral excitement. As a winery, do you want to look back in a few years and think, "Boy I wish I got in on that in the early stages?" The longer the wait, the tougher the upstream swim.
"Social media offers new opportunities to activate…brand enthusiasm." –  Stacy DeBroff, founder and CEO of Mom Central 
In my analysis of the Spokane area wine market, I discovered that 11 of the 15 wineries have Facebook fan pages and seven have twitter accounts. Of these forward thinking wine lovers, there are two that are actually taking advantage of Social Media to stay connected to their customers. The remaining are just stores with no inventory. Social Media is a two-way conversation with your fans/followers. Having a Facebook fan page is a start – fans can interact with one another, but think of how much more effective it would be if you responded to their comments? The interaction generates greater brand and product loyalty.
Good friend and Social Media Guru, @SeattleWineGal (Barbara Evans) has a fantastic post on the benefits of Social Media for wineries. It is an insightful post and worth the hop over to read it! It starts with trust, continues with reputation building and ends with increased sales.
"Social media efforts that have a strategic focus, plan, and goal, as well as a properly maintained and executed campaign, will result in an increase in sales." @SeattleWineGal Barbara Evans
What is your Social Media strategy?
I realize that many wineries, specifically Spokane wineries, are smaller operations that keep busy maintaining the day-to-day tasks of growing, harvesting, fermenting, filtering, bottling, and distributing their passions. "I can't afford to take time out to tweet or update my Facebook status." Upcoming harsh tone is intentional – Can't afford free advertising. Can't afford free word of mouth. Can't afford free brand loyalty. Can't afford increased sales. Attitudes like that will lead to obsolescence as customers vote with their wallet and move to products they can engage and build loyalty with.
Three Tier Tactics
Web Pages:
Web sites are static information mediums. A web page is a necessary business card element as customers are in the habit of searching for businesses in the .com .net world, but they don't provide an opportunity to interact in real time. Keep your web site fresh by including feeds from your twitter account and current event, product information, or even a blog if you have time (heck, you can link to mine or any of the thousands of well written blogs out there). Web sites are often a first impression of your product and are a great place to push people larger amounts of information as you interact through Social Media.
Facebook Fan Page:
Facebook fan pages are Social Media, static information, and fan interconnectivity rolled into one. With 3 out of 4 Americans using social media and Facebook being the king, NOT having a Facebook page immediately puts you at a significant disadvantage. Just having one isn't that much better. The key (as with Twitter) is to use it. Fans and followers want to connect. The conversation is part of the brand experience. Sharing pictures of the crush, responding to user tasting notes, sharing upcoming events (along with event pictures and then responding to users who attended) will do way more for brand loyalty than thousands of dollars spent in magazines and trade publications. Imagine the romance your customers will have as you describe the process of the 2009 vintage that you'll be releasing in 24 months. They will have felt a part of the process. Your customers are online, now more than ever.
Twitter:
I could talk at length about ways to maximize Twitter (and Facebook) use, below are five key steps!
Build your base: Invite customers to follow you on Twitter (and Facebook) by including links in all e-mail, newsletter, web site, print publication, etc. These links should become a part of every distribution avenue (including your business card).
Follow your followers' friends: Chances are your followers/fans have friends who are interested in the same things they are…YOU! There is no need to be overzealous. Take it slow, follow 30-50 at a time and then add more as they follow you.
Be Social! Small Town Rules: When you see interesting posts, retweet them. "RT @personname Great post on such and such topic. Excellent read! http/hyperlink." Putting the RT and @personname is the handshake and endorsement. Reply to people as they follow you or if they re-tweet your posts. Over time you'll see exponential interaction…if you follow the next step.
"Remember to put the 'social' in Social Media. Meeting in person and talking on the phone are still great ways to connect.  The digital space is an extension of actual human interaction, not a replacement." – Rick Bakas @RickBakas St Supery Winery
Tweet informative and often: It can be a challenge to keep content to 140 characters, but be creative! Don't be afraid to tweet the same information several times in a day. Tweets (and Facebook updates) are real time feeds. If you tweet, "Hey wine lovers, stop by our tasting room today and receive 10% off our newest release," it'll be off of most peoples radar within the hour (or even minute). With your frequent updates and potential re-tweets, your single post can quickly reach hundreds and thousands of people.
Don't sell, offer incentive: Fans are less likely to respond to 2007 Cabernet for only $19.99 (unless it's normally $50) than tweets of, "Stop by, watch the bottling, and receive $5 off with mention of this tweet." These incentives will also give you the opportunity to track effectiveness.
Much more could be said to maximize social media, but putting these five principles into play will begin the process of building trust, brand excitement, loyalty and increased sales.
If you're reading this thinking, "where do I start" or "this sounds good, but I think I need more help," feel free to reach out to me. If I can't answer your question of provide the time you need, I can certainly point you to the right person. (josh@nectarcoffeeandwine.com)
Don't miss out on the opportunity. Will you be the one to stand out? Your fans are waiting. DRINK.HAPPY!