My First Trip to Greece for Wine
Dionysus, the Greek god of wine and fertility. Legend tells us that Dionysus was the only Greek god born of a mortal parent, Semele. Known for his dual personality, Dionysus could bring erotic passion and happiness along with rage and madness. During his wandering, Dionysus taught people across the regions how to cultivate wine. It's curious or coincidence that even 6000 years ago in the mythology of the Greeks, wine was a significant part of Mount Olympus.
Wine in Greece dates back to 4500 BC and is considered to be the second oldest wine production in the world (central China being the oldest). Greek colonization of the area, along with the help of Dionysus of course, is thought to be the origination of wine across France, Italy and Spain.  With all this history, it's pretty amazing that the majority of Americans have zero experience with Greek wine.
Both wines reviewed are from the small island of Santorini in the Aegean. Santorini has a volcanic soil composition and enjoys hot summer days that are cooled in the evening by strong sea breeze. The Assyrtiko grape in this review is a hearty multi-purpose grape that can be crafted from dry to sweet and is similar in presentation to Riesling.
The NectarView
2008 Boutari Assyrtiko
The Stuff: 100% Assyrtiko from the Santorini region; 13.5%abv; cork enclosure
The Swirl: Very pale yellow in color; clean, clear and bright
The Sniff: An appearance of sulfites strikes the nose along with a ripe cantaloupe and house cleaner. Something about the nose feels off-putting.
The Sip: The Boutari has a mellow mouth coating feel that presents flavors of melon, red apple and stone. The finish is mild and crisp but then presents a slight sour aftertaste.
The Score: A refreshing wine that is more deserving of food (fish, shrimp, or spicy fair). The acidity was lacking but at $15 I score this wine a solid 3 (out of 5) and would be a fantastic introduction to anyone wanting to experience something new.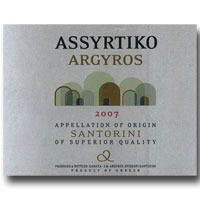 2008 Argyros Assyrtiko
The Stuff: 100% Assyrtiko from Santorini region; 20% aged in oak for 6 months; 13%abv; cork enclosure  
The Swirl: Very light in presentation, almost completely clear with mild hints of straw
The Sniff: A tight nose that presents strong citrus components and hints of lime
The Sip: Take a large pink grapefruit, squeeze the contents into a glass and add a spritz of lemon lime. This is what the Argyros presents. The acidity is strong and the finish is tart and steely…pucker up.
The Score: A very crisp and refreshing wine that will be a strong addition to Mediterranean food pairings. At $15 this wine earns a score of 3+ out of 5.
Wines provided as industry samples with the intention to review